NEWS
Nicki Minaj Barbie to be Auctioned Off for Charity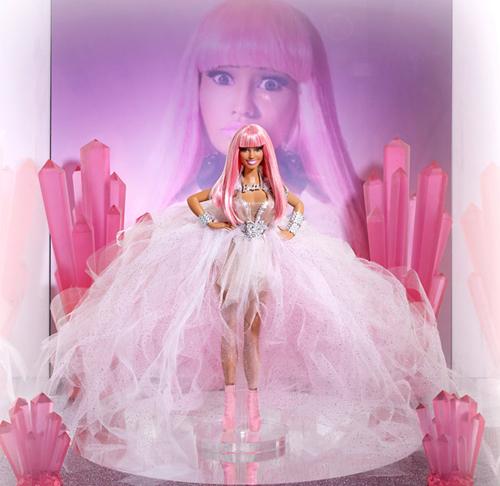 Lady Gaga has her Little Monsters and Nicki Minaj has her Barbies — literally!
The eccentric rapper is getting her own Barbie doll from Mattel to be auctioned off for charity this winter.
The Nicki doll — or perhaps Barbie Minaj? — features the singer in a cotton candy-pink wig, matching boots and a champagne-colored dress with a large tulle skirt.
Of course, Mattel couldn't forget Nicki's favorite accessory: a silver Barbie necklace and coordinating blinged-out bracelets.
Article continues below advertisement
The one-of-a-kind doll with be auctioned off on Charity Buzz to benefit Project Angel Food, an organization that provides food for those suffering from HIV and AIDS.
The doll will be on display at Divine Design's five-day event and gallery in L.A.'s Beverly Hilton starting Wednesday when bidding commences.
Charity Buzz will accept bids through Dec. 19 with a starting price of $1,000.
"Barbie is obviously a pop culture icon. She's been in the spotlight for over 50 years, and strikes that chord with girls of all ages in terms of being representative of the times," said Barbie spokeswoman Stefani Yocky (via MTV). "And Nicki is a big part of pop culture and also huge within the fashion industry, as well as a big Barbie fan ... It's really exciting for us that she's been so generous to allow us to create this one-of-a-kind doll to support such an important cause."
Other celebrities to have been "wrapped in plastic" as Aqua would say, have been Rachel Zoe and Janet Jackson.
Maybe if the Nicki Barbie is so successful a Roman Zolanski Barbie will be next?