NEWS
Nicki Minaj's Grammy Performance Exorcism: Creative Act or Too Lady Gaga?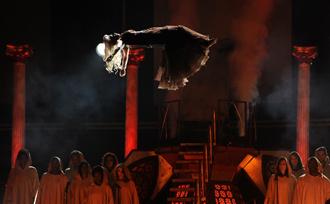 Article continues below advertisement
Reminiscent of Gaga's bloody 2009 VMA performance of "Paparazzi," Nicki performed an exorcism on stage. Nicki let her alter ego, Roman Zolanski, take over the stage to perform her new single, "Roman Holiday."
The performance was very confusing — at one point she was speaking in tongues and levitating.
Nicki didn't win a Grammy this year, but she definitely had the most talked-about performance. OK!'s Facebook fans sounded off on Nicki's performance and it looks the consensus was they thought it was too much like Lady Gaga.
Michele wrote, "Not digging it. Very offensive."
"Strange!" Jessica added. "A total copy of GaGa!"
But there were some OK! fans that liked Nicki's performance.
Lisa wrote, "Amazing I love it. Something different. I think her and Lady Gaga would make a good team. They need to do something."
Not a bad suggestion!
What did you think of Nicki's performance? Was it a creative act or too much like a Lady Gaga performance?