NEWS
Nicolas Cage Nixes Name Talk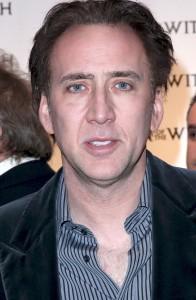 Nicolas Cage could almost be described as friendly Tuesday when he walks the red carpet during his premiere for fantasy adventure flick Season of The Witch at AMC Loews Lincoln Square in NYC.
Hm, how does he feel about giving a child a unique name?
The actor, 47, furrows his brow, looking confused. His son Kal-El, 5, was named after Superman, and he also has an adult son named Weston.
I explain: Your son has a unique name. Why is that important to you?
Article continues below advertisement
"My son's name is sort of private and important to me, so I'd rather not put him up for public consumption right now," he tells me.
For the Oscar winner, who wed Alice Kim in 2004, family is everything. In the movie, he takes a treacherous journey to transport a witch to a remote monastery. But when he takes a trip in real life, he's low-maintenance and sentimental.
"Well, I don't think there's anything I have to have with me except for some clothes, and I do like to have a phone with me. I like to stay in touch with the people I love."
He was happy to survive the shoot without injuries.
"The wildest moment of filming is when all of us were on horseback riding to a gallup in the mud, in the rain, going around a corner, a curve. I thought for sure we were going to wipe out, but we didn't!"
Shrieks erupt. "Ohohoho," Real Housewives of NYC star Jill Zarin says. "It's Nicolas Cage!"
Season of the Witch is in theaters Friday.