NEWS
Nicole Kidman Confesses to Kinky Past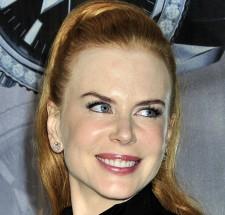 Nicole Kidman has 'fessed up to trying out "strange sexual fetish stuff" in an extraordinary new interview, in which she describes her marriage to Keith Urban as "raw" and "dangerous."
Nicole tells the December issue of British GQ magazine via the Daily Mail that her life has been dedicated to investigating different kinds of love.
"I've explored obsession," she says. "I've explored loss and love in terms of being in a grief-stricken place, I've explored strange sexual fetish stuff, I've explored the mundane aspect of marriage, and monogamy."
Article continues below advertisement
She and ex-husband Tom Cruise starred in the 1999 erotic thriller, Eyes Wide Shut, together.
But while she admits that marriage can be "mundane" she describes her three year union with country rocker Keith as being "a very extraordinary, adventurous place to be: incredibly raw, incredibly dangerous and you're very much out at sea. You're exposed. You could drown.
'When you commit to someone like that, you live and die together by that decision.'
Nicole, mom to 15-month-old Sunday Rose, admits that marrying Tom in 1990 catapulted her into the Hollywood A-list.
"I became famous very young. I became very famous because I was the wife of somebody," she says.
"I know my agents at the time were like 'Do not get married! It will ruin your career!' and I was like, 'But I'm in love.' All I know is that I wasn't someone interested in fame. And that's not why I got married. I wanted to work with people who intrigued me."
Article continues below advertisement
The star of Nine (out in theaters Dec. 18) still refuses to address speculation around her split with Tom, 47.
"I want to honor that marriage for what it was, and there is nothing I would go into about that. I have never discussed the intricacies of it and I never will," says the 42-year-old.
She even set fire to some of her diaries after her 2006 wedding to Keith.
"You can't read somebody's diary. You shouldn't read it. I burnt most of my journals after I remarried… You're only going to find out bad things."
Nine was the first movie she acted in after having Sunday. "I'd just given birth, so I was like "OK, I'm still a woman — I want to do this film. And I do have a life other than simply feeding this baby",' she says.
"I think when you give birth you get itchy to get back to work and you want to feel life still goes on."