NEWS
Nicole Kidman Honors Baz Luhrmann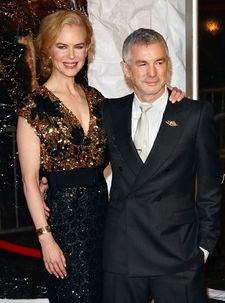 Nicole Kidman flies in from Nashville to present the Excellence in the Arts Award to her Australia writer/director/producer Baz Luhrmann during the Jacob's Creek New York Black Tie Gala held Friday.
Even though Nicole has said, "I can't look at this movie and be proud of what I've done," the director harbors no hard feelings.
"Of course I would work with her again – at the drop of a hat," Baz tells me. "All the work we've done has always reflected where we are in the journey, so I hope I'm working with her when she's 100. I won't reach 100, unfortunately, but she will. She's Nicole."
Article continues below advertisement
Even though Hugh Jackman bails due to a film commitment, the event held during Australia Week brings out the proudest celebs from the land Down Under.
Young Brandon Walters, who appears in Australia, is visiting the U.S. for the first time. He's thrilled to see Nicole tonight.
"She bought me a piano keyboard," he says.
Aussie actress Alexandra Bard, who tells me she was "connected" to Heath Ledger, hopes to clear up rumors about his demise.
"All the things with the drugs that came out after his death were really distasteful, and I don't believe that it's accurate at all. It's not how he deserves to be remembered. It's so ridiculous. I think most people would be lying if they said they've never played around with something. He wasn't a habitual user."
Former 24 star Sarah Wynter, who hails from New South Wales, offers high praise for her old costar Kiefer Sutherland.
Article continues below advertisement
"He's really lovely. He's a cowboy type of guy. I kind of like that. He's very rugged, rides horses."
As for the way he handled his 48-day jail sentence for DUI in 2007?
"I think he took his sentence like a man, and he didn't try to get out of it. He just did it. He didn't try to bargain anything."
Under her Calvin Klein gown, this mom of one, who is married to Details editor-in-chief Dan Peres, is hiding a secret weapon: Spanx.
"I got ready at my husband's office, and he said 'why are you wearing bicycle shorts? Are you going to ride over there on a bike?' I'm like 'no, honey, you're not used to seeing me in my underwear before I put a gown on.'"
Their son Oscar recently turned 1.