NEWS
Does Nicole Kidman Pee on Zac Efron in 'The Paperboy'?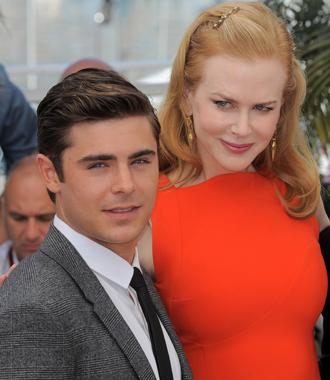 Zac Efron gushed last month that his romantic scenes with co-star Nicole Kidman in The Paperboy were "everything you ever dreamed of" and "the highlight of my life."
OK! GALLERIES: ZAC EFRON IS DECKED OUT IN PLAID ON THE SET OF THE PAPERBOY IN L.A.
Wonder if that included the moment she cops a squat and pees on his fictional jellyfish sting!
Yes, you read that correctly: If you ever watch The Paperboy (which premiered last night in Cannes), you'll be treated to a platonic beach scene where Nicole lets loose... to treat Zac's jellyfish stings, we presume. What a humanitarian!
Article continues below advertisement
Co-starring Matthew McConaughey and John Cusack, The Paperboy outlines a murder investigation conducted by a reporter (Matthew) who hopes to liberate a convicted murderer (John) who is behind bars. Nicole plays a wacky lovesick lady who hopes to free John so she can marry him.
OK! NEWS: ZAC EFRON TO STAR IN SEXUAL THRILLER THE PAPERBOY
Unfortantely, the movie doesn't have an American release date — which might be a blessing in disguise for fans of the actors involved. As one critic for Indiewire's The Playlist wrote:
"Many people will tell you that The Paperboy is a trash masterpiece, an instant camp classic, so bad it's good. These people, these critics, are simply not to be trusted about any question of judgment for a long time based on that half-hearted ironic 'endorsement' of one of the worst films of the year, never mind at Cannes."
Oh, well, Zac — at least the moment Nicole Kidman peed on you has been immortalized forever. How many people can say that?