NEWS
Nicole Richie Wasn't Always a 'Fashion Star': "My Mom Made Me Dress Like Her!"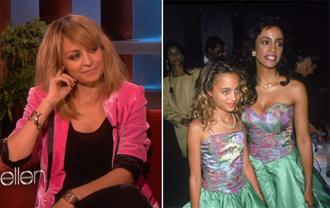 Nicole Richie is pretty ashamed of herself when it comes to her childhood fashion sense. It's not that she didn't have an idea of what was stylish and what was not, she just had a mom, Brenda Harvey, who wouldn't let Nicole make her own decisions on how to dress!
OK! GALLERY: NICOLE RICHIE PROMOTES FASHION STAR AT NBC UNIVERSAL SUMMER PRESS DAY
On The Ellen DeGeneres Show, airing today, Nicole shared some photos of her and her mom wearing matching outfits. But before Nicole could explain the pictures, the crowd, and Ellen DeGeneres, burst out laughing. So until they could maintain their composure, Nicole giggled along with them.
Article continues below advertisement
"Two things about my mom," the Fashion Star judge said as the audience's laughter simmered down. "My mom did not let me wax my eyebrows so in every picture I have the worst eyebrows ever. And she always wanted me to dress like her."
"So as you can see in these pictures, every picture that she has, she looks ecstatic and I look moritifed."
OK! NEWS: NICOLE RICHIE & FATHER LIONEL RICHIE PERFORM A DUET IN LAS VEGAS
Then Ellen asked, "And what age did you say, I will not dress like you anymore?"
"Like two weeks ago," Nicole joked.
Check out the funny video below!