NEWS
Nicole Sullivan's Ready to Rock Holiday Weight Off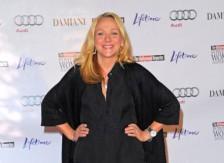 Rita Rocks' Nicole Sullivan only gave birth to her second baby boy a few months ago, but she's already off to a good start with losing the baby weight and she plans to keep it that way through the holidays!
Nicole talked to reporters at The Hollywood Reporters Annual Women in Entertainment Breakfast on Friday about her upcoming plans for the holidays.
With the new addition to her family and working on Rita Rocks, Nicole has had a very busy year and is looking forward to a little R&R.
Article continues below advertisement
"We are going to go up to Santa Barbara for New Years and sort of nestle up in a cozy cabin," Nicole told OK! "So that will be very exciting!"
So what's Nicole's holiday wish list?
"That my two-year -old not have a melt down!," she told reporters.
Hopefully her two year old will make that milestone, while her newborn sons makes his own too!
"He is doing really good," Nicole told OK! "He is smiling away and holding his head up on his own. We are getting some little giggles, too!"
Her newborn son is doing well and so is she with losing the baby weight!
"I am doing Jenny Craig now," Nicole explained. "I am the Jenny Craig spokesperson now so it's going great and it's been a slow and steady pace with a couple of pounds a week and it's been awesome."
The holidays will not be slowing Nicole's progress down.
"We have a whole plan," Nicole dished to OK! "My counselor has a whole book on it and it's great because Christmas week the goal is to maintain and she says that you don't have to lose anything Christmas week. That's going to be a win."
And what's next for Nicole in the New Year?
"A second season of Rita Rocks!," she told OK!
Reporting by Jennifer Birn