NEWS
Nicollette Sheridan's Battery Claim in 'Desperate Housewives' Lawsuit Thrown Out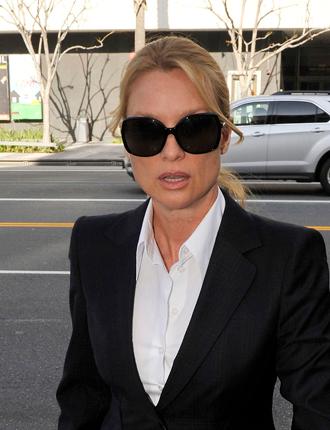 Former Desperate Houswives star Nicollette Sheridan's lawsuit just got a little more desperate — a judge has thrown out the battery portion of her claims.
For the past two weeks, Nicollette has testified that creator/producer Marc Cherry hit her "upside the head" on Sept. 28, 2008. She claimed that following this act, she complained and her character Edie Britt was subsequently killed off the show.
OK! NEWS: NICOLLETTE SHERIDAN SUITS UP FOR DESPERATE HOUSEWIVES FIRING TRIAL
Article continues below advertisement
"Obviously, I am thrilled by the judge's decision, but I am going to withold all comment until the case is resolved," Marc told E! News outside the courtroom. Prior to the decision, Eva Longoria, Teri Hatcher and Marcia Cross issued a joint statement in support of Marc.
Nicollette is also suing ABC studios for wrongful termination, and that part of the suit is still pending. Her attorney, Mark Baute, stated that this development is not a big deal for the case against ABC. Desperate Housewives construction coordinator Michael Reinhart testified earlier today that he thinks he accidentally received an email detailing a cover-up surrounding Nicollete's firing.