NEWS
Niecy Nash: "Thin Girls Need To Eat"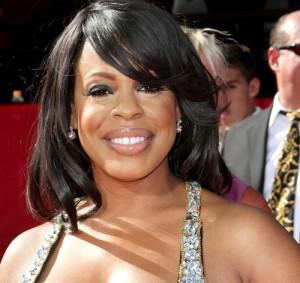 Even though Niecy Nash slimmed down after appearing on Dancing With The Stars, she admits she hasn't weighed herself since appearing on the show. The Clean House host, 40, doesn't care to step on a scale because it doesn't matter to her.
For the divorced-and-dating mom of three, knowing what she likes and what she doesn't like in the food department is key.
"There are things that I avoid, but not because I want to deprive myself," Niecy tells me during Flushing For a Cause event hosted by Clorox. "It's because I don't care for it. I don't care for potato chips. I don't have a big love for French fries. Some people love French fries – it's coming on the side with the shrimp that I ordered, but even if it didn't, it would've been fine with me. I'm not a big fan. Cottage cheese, not a big fan. Some things I'm like 'mmm, I don't eat it because I don't like it.' Because if I like it, I'm going to eat it."
Article continues below advertisement
She continues, "That's what's wrong with a lot of people. A lot of people are miserable, a lot of people are so unhappy because they're hungry. They need to eat a little more. All those thin girls walking around on Dancing With The Stars, they're arguing with their partners – you would have a better life if you ate some food, honey."
Would the reality star, whose beau is Jay Tucker, recommend dancing as a workout?
MORE ON:
Red Carpet Confidential
"If you like it, I would recommend anything you want to do as a workout. I didn't weigh myself before Dancing With The Stars, I haven't weighed myself since Dancing With The Stars. My Mr. Wonderful has weighed in and said 'you lost weight.' I don't know if it's true or not."
Because she's pressed for time, Niecy likes to incorporate her family into her workouts.
"Sometimes I do things that are unconventional like take my kids to the roller-skating rink or have all my kids come in the room, and we have a hula-hoop contest. It doesn't always have to be in the gym for an hour-and-a half doing whatever that is."
She continues, "I work a lot. I don't have time to be at work all day, and get home and say 'now I have to leave you again to go to the gym for a couple hours.' I have to make it work as a family."
Here's my pic with Niecy:
For a What I Ate Today feature on Niecy Nash, pick up the OK! on newsstands now. The cover line is "The William and Kate Wedding Tell-All!" And, head to www.odetothecommode.com to find out how you can help Niecy and Clorox's Flushing for a Cause campaign to help raise money for the 2.6 billion people worldwide without access to proper sanitation.