NEWS
Nigel Barker's New TV Gig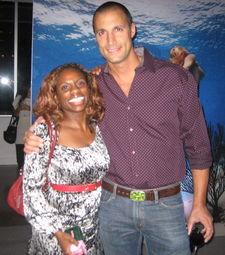 Nigel Barker has a new series heading to television. It's called The Shot and follows 10 aspiring lens men and women competing to be the next great fashion photographer. I had already gotten the heads up from the America's Next Top Model judge about his new show when I ran into him at the launch of The Supper Club, a party circuit for New York City's elite, Tuesday night, so I came loaded with questions to The Shot's premiere party, held in the penthouse at Milk Studios in Manhattan's meat-packing district.
Article continues below advertisement
"I wanted to create a show about photography, I think it was needed, and I thought it could be fun," Nigel shared with me. But don't expect to see him in it because, "I have an exclusivity contract with America's Next Top Model." So he's not abandoning Tyra for a fulltime producer credit? "They just picked me up for another four seasons. I'm up to season 14 at the moment," Nigel reassured, adding he's ready to give retired 35-year The Price is Right veteran Bob Barker a run for his money. "It will be America's Next Top Model, Cycle 140," Nigel joked. Speaking of Model – what did Nigel think of Ebony quitting the show on Wednesday night? "What a waste," he declared. "There are so many girls out there who want the opportunity. You feel you cast wrong; you should have given it to someone else who really would have done something with it." Like second-chance Ambreal. Let's hope she works that runway right to the finish line!
The Shot premieres Nov. 4 at 10 p.m. on VH1.