NEWS
Nightly News: Jared Leto Films On A Bicycle; David Boreanaz Gets Ready for Halloween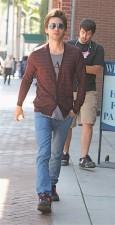 Jared Leto goes green for his music video. (Celebuzz)
Watch out Glee fans, you won't be seeing the cast at the Macy's Thanksgiving Day Parade. (E! Online)
David Boreanaz and family go pumpkin pickin'. (Pink is the New Blog)
Sneak peek on the Rachel Zoe Project finale; which airs tonight on Bravo. (I'm Not Obsessed)
Oprah and Gayle head to the Texas State Fair and eat corn dogs. (TMZ)
True Blood hunk Ryan Kwanten arrives in Sydney, Australia for the Inside Film Awards nominee announcements.
Article continues below advertisement