NEWS
Nike to Auction Off Marty McFly's Back to the Future Part II Sneakers With Michael J. Fox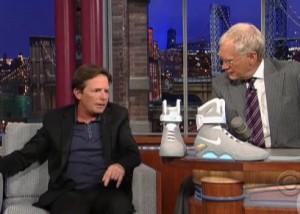 Anyone who saw Marty McFly slip his feet into a pair of Nike MAGs in Back to the Future Part II and saw them lace themselves up has probably been coveting them ever since. And now, Nike and Michael J. Fox are auctioning off 1,500 real pairs of the super sweet sneakers to benefit Parkinson's Research.
Michael, who lives with Parkinson's, showed off the shoes on the Late Show With David Letterman last night, and explained how the money will go even farther, as Google founder Sergey Brin will double the proceeds up to $50 million.
Article continues below advertisement
Check out the awesomeness in the clips! Will you take a stab at bidding on these cool sneaks?
MICHAEL J. FOX:
NIKE AD: