NEWS
Nikki Blonsky: Healthy at Any Weight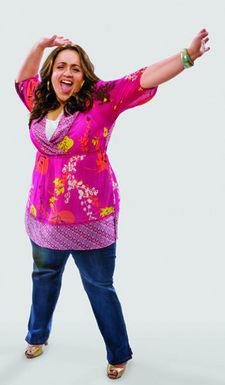 Most young actresses feel the pressure to become stick thin. But Golden Globe nominee Nikki Blonsky, 19, tells OK! "I think people just need to be happy with who they are." At 4 feet 10 inches tall, Nikki is proud to be a full-figured actress and points out that she's just as fit as anyone else. "I could probably get on a track and run races with thin girls," she says. Just because Nikki isn't tall and thin doesn't meant that she's not healthy or fit. Antoni Luke-Akagi, a trainer at Crunch gym in NYC, tells OK!, "Physical fitness and weight are not necessarily dependent on one another. One's health depends on their genetics, eating habits, exercise habits, environment, etc. It's is not the sole indicator of their health." Nikki agrees. "It's a really big misconception with plus-sized women," she says. "Everybody thinks that every woman who's plus-sized is out of shape—that's not true." The young star is extremely active. I'm a dancer. I dance all the time. I keep up with my cardio. It's important to stay fit."
Article continues below advertisement
Diet?! What diet?
When it comes to eating, the young star isn't about to try any fad diets. "I think you should eat what makes you feel good, do what makes you feel good and maintain a healthy lifestyle because you want to be around to enjoy all those years. So you have to find a healthy balance." And Nikki has it all figured out. She jokes, "If you want to eat the fried chicken, do it! Don't turn away from it. Do it, but make sure you do it while riding an exercise bike!" When it comes to comfort food, Nikki reaches for her mom's chicken parmesan. "It's outrageous. I could eat it every single day for breakfast, lunch and dinner!"
Nikki wasn't always this secure in her own skin. "In middle school, I went through a rough period of time when I wasn't comfortable in my body. I wanted to lose weight." She continues, "I didn't know who I was, and I didn't know what I wanted to do with my life." But as most of us know, many teens just want to fit in. Nikki finally found her calling when she discovered theater. "Once I got into high school and found theater, that's when everything kind of started to emerge for me. I started to really find myself as a person," she says.
Building Confidence
She's till a teenager, but Nikki has it all in perspective. "You can still be plus-sized but be proud of your body. We're just different body shapes, and that's what makes the world go 'round. Everybody's different." She continues, "Once you're comfortable and happy within yourself, then you can lead a fun, happy life. And that's what kind of happened with me. I finally became comfortable in my body, and now I'm just happy being me. "Luke-Akagi adds," When one is confident in their own skin, it's hugely apparent in their presentation of themselves and the way they approach most situations." So as this young star expands her film credits and fan base, don't expect her waistline to go anywhere.