NEWS
Nikki Opens up About Her Arrest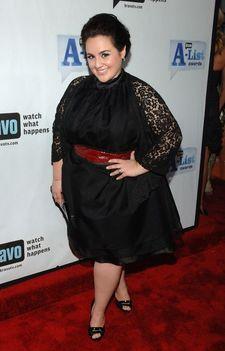 Nikki Blonsky is opening up for the first time about her family's public dustup at the Turks and Caicos airport last month.
In an interview with ET, the Hairspray star says her family is coping with the situation the best they can.
"We are a tight-knit family," Blonsky says. "We're just happy to be back together. My family is my life. The best gift that I've been given is my parents."
On the media attention surrounding the incident in which her father Carl was also arrested, Blonsky says it's difficult to see her family under scrutiny, "You want to protect them the best way you know how."
Article continues below advertisement
Nikki and her father were arrested in August on assault charges after getting into a fight with the family of former America's Next Top Model contestant Bianca Golden at the Providenciales International Airport in Turksa and Caicos. The spat was reportedly over saved seats.
Blonsky says she's received nothing but support from her friends, including fellow Hairspray castmates.
"They have all been extremely supportive," she says, adding that co-star Zac Efron has played a special role in helping her cope with what happened.
"I love him with every inch of my body and soul. He has been an amazing support system."
For the full interview with Nikki, tune into ET tonight!