NEWS
Nipplegate Goes to Court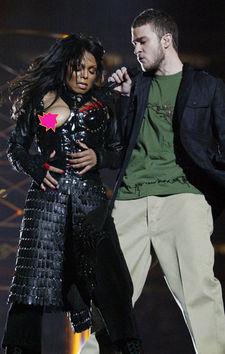 More than three and a half years later, Nipplegate is finally heading to court.
The 3rd US Circuit Court of Appeals in Philadelphia will hear arguments today regarding the notorious Super Bowl XXXVIII halftime show, during which exposed 's sun-shielded nipple after rocking her body.
The hearing is meant to determine whether or not the "wardrobe malfunction" was in fact indecent, as the Federal Communications Commission and many others consider it to be, or simply an unfortunate accident that doesn't warrant punishment.
Article continues below advertisement
The FCC fined CBS half a million dollars for the Feb. 1, 2004 incident, which the Eye contested in November 2006, asserting that "fleeting, isolated or unintended" images should not be deemed indecent, especially when the network had no prior knowledge or planning of the flashing.
Firing back, the regulation agency maintains that inadvertent transitory images can make a lasting impact. "Even relatively fleeting references may be found indecent where other factors contribute to a finding of patent offensiveness."
Arguments were scheduled for a 9:30 a.m. start time. No cameras are allowed in the courtroom.