NEWS
No Body Doubles Used in Michael Jackson's "This Is It"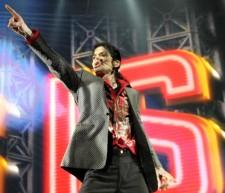 Just days before the film premieres to the public, producers of Michael Jackson's This Is It say stories that claim body doubles were used for MJ in the movie are "pure garbage," TMZ reports.
The issue of body double use began after Joe Jackson claimed the media would "tear this movie apart" and that it was "mostly body doubles."
Joe's statements were quite different from the ones his son Jackie Jackson recently made about the film — he called it "riveting" and says his brother's performance is "electrifying."
Article continues below advertisement
A rep from Sony, co-producer of the film, addressed the rumors by telling TMZ: "This story is pure garbage and there are no body doubles.
Audiences will begin to see the film tomorrow and every time they see The King of Pop they will know that every frame is unquestionably Michael as he rehearses and prepares for the London concerts that were to have begun this past summer."
The film will be released in theaters Oct. 28.