NEWS
No Drama for American Idol Lee DeWyze!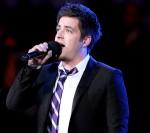 Although his first single is a U2 cover, don't expect any more Bono and the boys from Lee DeWyze. "When I get to make my own album, during this whole process, I'm definitely going to be recording original music," he tells OK!. "Writing with some good people and making something that we can be proud of, but not full of cover songs."
Don't worry, American Idol fans, he'll still play your favorites on the upcoming tour. "There's still a couple I got to work out, but I generally know what my set list is. Some stuff, I've played on the show and some stuff I haven't. It's going to be a good mixture of both," he explained to OK!.
Article continues below advertisement
OK! INTERVIEW: AMERICAN IDOL CHAMP LEE DEWYZE VISITS OK!
Lee is busy rehearsing for the tour, which starts up on July 1 in Auburn Hills, Mich. The tour, which reunites the top 10 Idols together, has also reignited the bro-mance between Andrew Garcia and Lee.
When asked whom he's closest to on the tour, Lee said: "I'm close with everybody, I really am. I'd say Andrew, probably. He's been my good friend since day one. Andrew, Siobhan Magnus, Casey James, Big Mike Lynche, those guys."
OK! GALLERY: LEE & CRYSTAL SERENADE THE BIG APPLE
He's also been keeping up with Crystal, but has been out of the loop on her personal life.
"Yeah, I talked to he not too long ago, actually. We're both doing our own things, you know. We're both getting pulled in different directions. When we get a chance, we definitely talk," he says. "We're friends, it's just we're so busy now, I think it's been hard for maybe both of us to keep in touch with everybody right now."
Article continues below advertisement
When asked about her break-up drama, Lee replied, "I don't know. As far as I go, my personal life and my music life are two different worlds. So, what I'm doing with my music and whatever with the tour and all that and what I do at home, I keep those things completely separate."
OK! NEWS: LEE DEWYZE & CRYSTAL BOWERSOX BOTH SIGNED TWO RECORD DEALS!
There is no lady drama in Lee's personal life because he is single. All ladies are welcome to apply since he says he doesn't have a particular type of women that he is seeking.
"I'm not one of those people who have a type. Just someone I can get along with and click with," Lee admits. "Obviously, somewhat similar interests, but a girl that can be herself around me and myself around her. You know, when it clicks you know. It's just one of those things where it clicks you know it. It's one of those kinds of deals. I'm not waiting for a specific type."
Article continues below advertisement
Another thing he's not waiting for is to be a mentor on American Idol. Lee says that while, "I'd be more than willing to help anybody on the show. Help anybody over there that wanted it. I'd go back there and do anything they wanted in a heartbeat. American Idol is amazing and all the people are amazing and they're just awesome people," he doesn't necessarily feel like he'd be the right mentor… yet.
"I think you need experience before you can start mentoring people. As far as the show, maybe, I could sit down and tell them what I think of that, but to a mentor is someone who is supposed to guide you through a process. I guess I don't know, that would be interesting."
Who was the best mentor this season? "Harry Connick Jr.," Lee replied without hesitation. "He was the best."
You can buy American Idol Live tickets at livenation.com