NEWS
No Jail Yet for Lindsay Lohan: Actress Has Two Weeks to Accept Plea Deal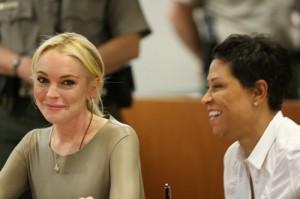 Lindsay Lohan's case is far from over. Judge Keith Schwartz has given the 24-year-old star some more time to consider accepting his plea deal, scheduling two very important dates which will determine the future of the case.
Lindsay will return to Judge Schwartz's courtroom on March 23 if she chooses to plead guilty or not contest to the grand theft charge, which through the parameters of the plea deal, will result in jail time, TMZ reports.
Article continues below advertisement
If she does not accept the plea bargain, Lindsay is scheduled to appear back in court on April 22 at 9 a.m., where a preliminary hearing will be set in front of a new judge, Judge Stephanie Sautner.
Judge Schwartz wants Lindsay to accept the plea deal, but she is not ready to head back to jail and has claimed "justice will prevail" in her case.
The judge also expressed his amazement at how the details of Lindsay's case are leaked to the public so easily, likening TMZ to the CIA.
"I don't even tell my wife what is going on," he explained.
TMZ knew before today's courtroom meeting that Judge Schwartz would give Lindsay more time to think about his plea offer.
TMZ also reported that the condition of his plea deal would include around three months of jail time for Lindsay.
Do you think she will accept?