NEWS
No Kristen & R-Patts Hook-Up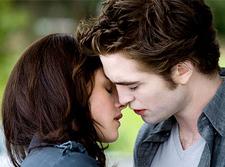 As much as Twilight fans might want to believe that Kristen Stewart and Robert Pattinson are a real life Bella Swan and Edward Cullen, the rumors that the co-stars have been hooking up just seem to be that, wishful thinking.
Even their co-star, Billy Burke, who plays Bella's dad Charlie Swan, says he really doubts that they're a couple.
"As far as I know, I'm gonna say bulls--t," Billy told E! at Melanie Segal's MTV Movie Awards gift suite. "I'm not buying it. Please!"
Article continues below advertisement
Billy should know, as he and Rob would grab drinks together sometimes in Vancouver after filming New Moon.
"He's a goofball," Billy says about Rob in real life. "If people knew how much of a goofball he was, they wouldn't be falling all over the place. He doesn't take it all too seriously."
R-PATTS TAKES IT OFF IN ITALY: