NEWS
No Leniency For Anne Hathaway's Ex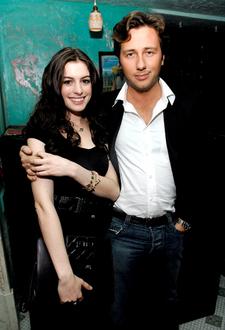 Although Anne Hathaway's ex-boyfriend, Raffaello Follieri, asked for a reduced sentence in his fraud case, U.S. prosecutors have advised the judge that the Italian businessman doesn't deserve leniency.
Raffaello, who originally agreed to five years and three months in jail after pleading guilty in September to fraud for various business dealings involving the Catholic church, had asked for his sentence to be lessened to three years.
Article continues below advertisement
Court papers submitted in Manhattan today contend that the Rachel Getting Married star's ex should serve more than four years in jail for cheating investors, according to the Associated Press. His sentence will be handed down on Thursday.
Anne has remained stoic throughout the controversy surrounding her ex and their high-profile breakup, which fell apart after four years together when Raffaello was arrested last June.
"What's the right thing to do? Do you talk about it? It's the elephant in the room," she said recently. "I think it's better to let everyone know that I'm OK. I'm trying to move on and have a sense of humor about everything."