NEWS
No Melrose Place for Lisa Rinna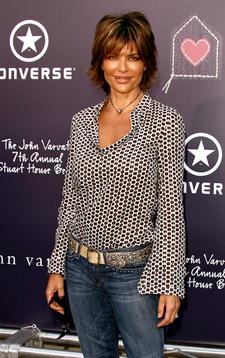 The new Melrose Place will welcome back many familiar faces on the CW when the remake airs, but it seems that at least one vet won't be sunning by the pool: Lisa Rinna has ended her campaign to reprise her role as Taylor McBride.
"We had a moment, and it was real fun," Lisa tells EOnline.com. "I've moved on. It's all good."
When it was announced that the popular show would be having another go, Lisa started her crusade to be cast. She recently filmed a piece for Ross "The Intern" Matthews' web show, standing on a corner of Melrose Avenue in L.A. wearing a sandwich board that read, "Honk 4 Lisa Rinna on the New Melrose Place."
Article continues below advertisement
The CW is bringing back Melrose alum Thomas Calabro as Michael Mancini and Laura Leighton as Sydney Andrews, a move that surprises Lisa.
"I just wonder how they're going to bring Laura back, because she was dead," Lisa says. "I remember filming the scene. She's dead. She's dead. They wanna fool me and say she wasn't, but she's dead."