NEWS
No More Hannah Montana Movies?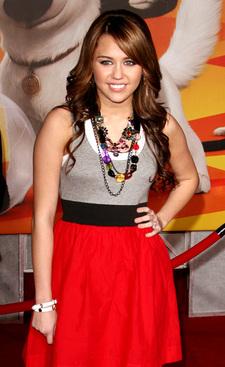 Brace yourselves, Hannah Montana fans – Miley Cyrus isn't sure she wants to return to the big screen as her alter ego anytime soon.
''We got really lucky with having the material to make one movie,'' she tells the Associated Press. "I don't know if I would do another Hannah Montana film, but I would love to do another season," she adds. "That would be what we would all agree on.''
That concession must be a relief to tween fans, who are no doubt all but salivating as they wait for Hannah Montana: The Movie to be released on April 10.
Article continues below advertisement
Along with another season of her hit Disney show, Miley is working on a super secret screenplay with The Notebook author Nicholas Sparks, who skipped writing a book and went right to the screen with Miley on his mind for a character.
''I've always been lucky to play parts that relate to me, and this doesn't at all,'' she says of the part, which is very hush-hush besides the track name for the movie's soundtrack, "The Last Song."
''I have my issues, but not as bad as this chick," she reveals. So "I'm happy to play someone that's just kind of out there and not someone that I'm like.''
MORE MILEY PICS: