NEWS
No More Reality for Carmen Electra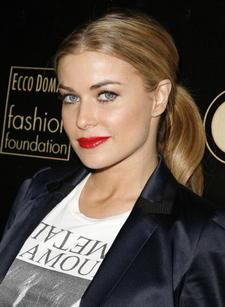 Jessica Simpson isn't the only MTV alum who her reality TV roots.
Carmen Electra, whose courtship and marriage to rocker Dave Navarro was chronicled on 'Til Death Do Us Part: Carmen +Dave, tells OK! not to expect her to shake her booty on Dancing With the Stars or show her business savvy on Celebrity Apprentice any time soon.
"I love reality shows, but I think, for the most part, I would love to just go home and TiVo them and be a viewer instead of a participant," Carmen tells OK!.
Article continues below advertisement
to Korn guitarist Rob Patterson, the 35-year-old beauty and Dave split after 2 1/2 years of marriage in 2006, but she looks back on their time together and their celebreality production fondly.
"We're really happy how it turned out," she adds. "To this day we still talk about how it was such an important time in our lives. Even though it didn't work out, we're so glad we did it and we were able to celebrate our love. We'll always love each other and we'll always have this deeper connection."