NEWS
No On-Set Romance for Keanu & Winona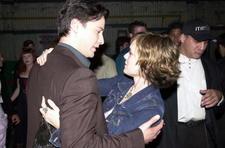 Inside the current issue of tasteless tabloid Star there's a "news" item about how actors Keanu Reeves and Winona Ryder are getting romantic, embracing each other and spending lots of time together in their trailers on the Connecticut set of their film
The Private Lives of Pippa Lee. That would be really interesting — if there was even one ounce of truth to it.
Well, technically it is true that both stars are filming this movie, but that's where reality ends in this story.
Article continues below advertisement
First, one insider on the film confirms to OK! that there aren't any trailers on the set for Keanu and his rumored lady love to retire to. And what about them getting cozy during their time together on the set? According to another source, the non-couple haven't even been on-set at the same time, making it physically impossible for them to embark on a public hug-fest in front of the cast and crew.