NEWS
Norah Jones Opens Up About 'Blueberry Nights'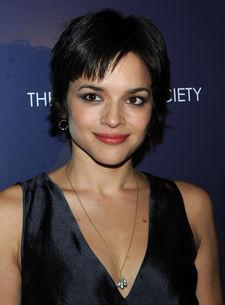 Norah Jones greets me with a blueberry pie from Bonert's when we meet up at the Regency Hotel in NYC. Dressed down in a long, gray sweater with red tank and jeans, the petite-and-stunningly beautiful Grammy winner makes her silver screen debut playing a waitress getting over lost love in My Blueberry Nights.
How many pies did she eat while filming?
"Too many," she laughs.
Jude Law, Natalie Portman and Rachel Weisz also appear in this coming-of-age drama. Lucky Norah has a passionate makeout session with Jude.
Article continues below advertisement
Director Wong Kar Wai took great care to make their romantic rendezvous run smoothly.
"This is the first time the characters meet physically," he says. "It was a lot of work. It's like gymnastics. It looks great on film, but it was very hard. We had to paint Norah's cream on her face."
"My face was really sticky," she admits.
In real life, Norah cops to waitressing at NYC's Metropolitan Café.
"I was awkward but decent," she tells me. "Never spilled anything big."
While filming in Memphis, the NYC native couldn't get enough of Gus's Fried Chicken. "Order 12 pieces so you can save some in your hotel room for later," she says. She misses it today. "You can't eat Gus's Fried Chicken over the Internet."
How did she relate to her character, who is searching for her own identity?
"I think my character Lizzie learned from other people's mistakes, and I just turned 29, but I still consider myself young-ish. The past 10 years have been a big leap, from when I was 19 to now. Even though I had a lot of success and I was making music for a lot of people when I was 22, I had no idea what I wanted to do with my life or if that's what I wanted to do with my life. I'm still searching."
Article continues below advertisement
Even though Norah has no plans to record a new album, she isn't completely sold on the movie biz.
"I would love to do it again, but it would have to be another special film because I had such a great experience. I don't think I want to do it all the time. I want to keep it special. It would have a lot to live up to to do it again."
Considering Wong Kar Wai is a renowned Chinese director, will we see Norah in Chinese films?
"I don't know how I would do it or if it would be possible," she says. "I think I could handle French. But I don't know. That's as far as I could go. I'd have to be mute."
My Blueberry Nights is in select theaters now.