NEWS
Not Another Dumb Blonde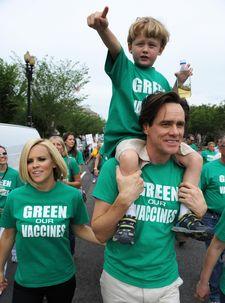 I used to have a dumb blond complex. Being that I'd experienced paranoia stemming from being judged by my hair color (and silly comments I tend to make), I should have know better than to have any preconceived notions that Jenny McCarthy was a dumb, ditzy blond. These preconceptions were put to rest when I had the opportunity to chat with her a few years at Sundance and I was more than a bit pleasantly surprised that Jenny has a quit wit and is truly funny - and intelligent. I'd love to spend a day with her and Jim Carrey, I imagine them just making funny faces and laughing incessantly.
Article continues below advertisement
Alas, they haven't invited me over recently, but I did come into the office on a Saturday to speak to Jenny while she was in Miami hosting the launch of FAO Schwarz in Macy's.
This is what she had to say in our telephone Q&A...
Why enticed you to go to Miami for the FAO Schwarz in a Macy's launch?
One of the big things FAO Schwatz is promoting is how their toys are really helpful at pushing imaginative play, and within the autism community, that's all we try to do with our kids is imaginative play, so that really is the reason I said yes to help promote their belief in good play.
What's your first memory of FAO Schwarz?
I think it was the infamous toy soldier, seeing him march on the streets in New York and thinking that must be the most incredible store in the world, and when I saw it in the movie Big, they go to FAO Schwartz. It felt like the ultimate toy store when I was a kid and it still does today.
What was your favorite toy growing up?
I was really into Mr. Microphone. I couldn't get enough of my Mr. Microphone and talking on it and pretending I was Oprah.
Article continues below advertisement
What's your son's favorite toy?
My son's favorite toys right now are dinosaurs and flying dragons, anything that can destroy people. He's six-years-old and a boy, so anything that breathes fire and can destroy things he's into right now.
What's the last thing your son did or said that surprised you?
He came out of his bedroom dressed as Darth Vader and started to recite some of the dialogue and Jim, I guess every guy knows the complete dialogue to Star Wars and Jim completely picked up the dialogue and they had an entire scene together. Jim was the emperor or whatever you call it the death star emperor or something and Evan was Darth Vader and it was the most surprising, awesome thing a mom could ever witness.
Jim must play well with Evan?
Great, honestly, I'm so blessed. His characters are way better than mine.
Do you want any more children?
No. I'm so grateful I'm not having any more children because I got my butt kicked so bad with autism I feel like my energy is best served continuing Evan's progress and helping thousands of other moms who need direction to get their kids better.
What do you think is the most important key to balancing being a working mom in a relationship?
Article continues below advertisement
I always make sure I do something for myself even if it's taking a bath twice a week with no one bothering me, but in terms of balance and being a mom there's really no such thing. It's always lopsided. I do get some me time when I travel and I'm in a hotel room by myself and I watch Judge Judy .
Favorite Fall TV shows or reality shows?
I've never really been into TV, which is funny being in it, but Jim's just got me really into House. We bought the DVD season and watch them back-to-back-to-back and I love it because there's so much medical stuff that I learned with healing Evan that I kind of know what he's talking about now. And, I went two years to college to become a nurse so I have a have a personal interest in medicine so I do like House a lot.
Favorite way to spend an average night at home?
My favorite average night at home is shopping on shopbop.com while watching TV because I have to being doing two things at the same time otherwise I lose my mind.
Your book "Mother Warriors: A Nation of Parents Healing Autism Against All Odds" recently came out, how would you describe a mother warrior?
A mother warrior is a mom who never gives up no matter how hard the situation is in front of her. She's a mom who will break down walls and do anything, even go against mainstream authority if it means saving her child and those are the women that I walk with now.