NEWS
Notes From the Underbelly Star Talks Babies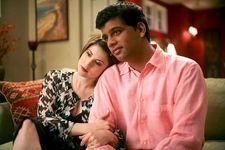 ABC's surprise hit from last season, Notes from the Underbelly, is back tonight. I most relate to Cooper, the single, childless thirty-something who is happy just the way she is, thank you very much. But I wanted to get the other point of view from Sunkrish Bala, who plays Eric, the doting dad to baby Perry, only to find out this mere 23-year-old is just acting when it comes to playing a proud papa.
Article continues below advertisement
This show is all about relationships. So are you single right now or seeing someone?
I just got out of a long, long relationship, so I'm newly and happily single.
What do you look for in a girl?
At this point, not crazy is awesome. I don't know, preferably someone who's not in the industry or doesn't care about it. Living in LA especially, all your friends are actors, and all they care about is who's booking what and who's with what agent, and what network is this person working for – that gets a little tiring.
You're way too young to be a dad in real life, but you play one on TV so well…
Yeah, Eric and Julie are just those obnoxious parents next door that you don't want to talk to. Our world is about our baby – the "Mommy and Me" and "Music and Me" classes and waterbabies. It's like we did this before we had our child, and now our life is consumed by it. It's a little gross.
What hat happens to Eric and his wife Julie in the season opener?
Article continues below advertisement
It's only a small taste of how far we'll go to spend time with our child. We're competing with a possessive nanny in the first episode, and we do everything we can in our power to get our son back.
Working with babies can be unpredictable…
Actually, our baby stars are super cheerful. The were born to be little actors. This season we've had no trouble at all. They do what they're supposed to do right on cue and they're looking cute. You know, they're better actors than I am!
How do you keep the babies entertained on set?
Just sing to them, hold them, shake them and play that peek-a-boo game they never get tired of. Me playing with a baby is all about making sure nothing goes wrong. "Don't drop, don't drop, don't drop," the baby – that's what's going through my head!
Everyone always asks me, what does Eric do for a living on your show?
You know, it's such a mystery. No one knows and everyone speculates. I know he's incredibly wealthy, so it's something that pays a lot of money. That's all that's ever been made clear to me.
Any guesses?
He's definitely like an I-banker or a finance guy. Eric's so square and boring, but he's richer than I will ever be in my life!
Maybe he's a super spy?
You know what, I like that. Eric's a super spy, and no one knows it, he's that's ultra smooth.
Notes from the Underbelly, season premiere, airs Monday, Nov. 26 at 9:30 p.m. on ABC.