NEWS
NYC's Milk Studios Makes a Splash in LA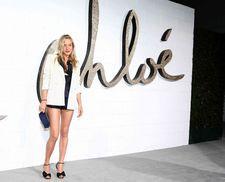 Last night event and gallery space Milk Studios unveiled their LA outpost with admirable fanfare, hosting a Chloe party (in honor of Chloe's first LA boutique opening on Melrose) hosted by Chloe Sevigny and Kate Bosworth.
The soiree hit the sweet spot with just the right mix of hipsters and fashionistas from both coasts, great music, a palpably fun vibe and healthy dose of celebrity.
I spent most of the night a large NYC to LA contingency - my NYC roomate Amber Feld, stylishly clad in an Akiko Ogawa dress, our new LA friend, photographer Rylan Perry, cool NYCers Theodora Richards and Ms. Angela Jones, Milk Studios' Catherine Kim (who made the move to LA most recently) and owner Mazdack Rassi, who with Milk LA open is the latest to go bi-coastal.
Article continues below advertisement
I recognized a few dozen other people at the intimate party as friends or acquaintances, and others I just thought I did. A tall guy walked in and gave me a head nod hello as I stared at him wondering where I'd met him. I met him in SXSW. It was Jane's Addiction lead singer Perry Farrell. Perry rocked the turntables and sang Jane's Addicition's "Jane Says" following a smashing performance by Janelle Monae. Kate Bosworth was looking mighty slim but still beautiful, I chatted with a girl while on the bathroom line that I've since realized was Scout Willis (those girls have grown so quickly) it seemed like everywhere Rachel Zoe walked someone was behind her imitating her signature (Diiiieee) and Jeremy Piven was there flirting with a pretty PR girl who I hear he was later seen chatting with at hot Hollywood exclusive haunt Bardot. Ok, have a good weekend! I'm off to poker night at former Miss USA Susie Castillo's house followed by a preview party at the not-yet-opened Hollywood soon-to-be hotspot Jane's House. Good times ;) xo