NEWS
Obama Knows Beyonce's Single Ladies Dance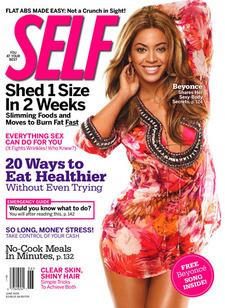 Just hearing the words "All the single ladies" these days will most likely prompt anyone in the pop culture know to mimic a few of Beyoncé's moves – even President Barack Obama has done the hand flip, saying, "This part, I get."
"There's something about that song," Beyoncé tells Self magazine in a new interview. And while she usually switches the radio station whenever she hears one of her own tunes, she admits she gets the dancing bug when she hears that song.
Article continues below advertisement
"I can't stop seeing the choreography in my mind when I hear it," she reveals. "My foot just starts doing the steps. It's so embarrassing! I don't want people to think I'm dancing to my own song, but I can't help it!"
All that dancing and singing makes for a busy career, but Beyoncé says she's at the perfect point in her career.
"I'm very lucky to have worked young. I set myself up so now I can have whatever time I need to focus on myself and my life," she says. "When I have a child, I'll be able to decide, OK, I'm going to do a movie for three months and they can come with me. It's a really wonderful place to be," she says.
We can just see a mini Beyoncé or Jay-Z doing the Single Ladies dance!