NEWS
Obamamania at MTV Europe Awards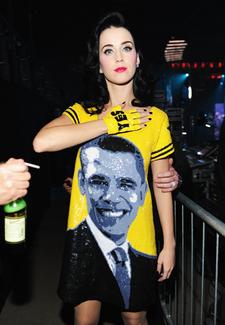 The reverberations of Tuesday night's presidential election continue to be felt, not only in the U.S. but across the pond in Liverpool as well, at this year's MTV Europe Awards.
Host Katy Perry rocked a dress showcasing Barack Obama's face and joked that "maybe Europeans will love us again now," according to the Associated Press. She also picked up the award for best new act.
Co-host Jared Leto, erstwhile actor and lead singer of 30 Seconds to Mars, wore an Obama T-shirt and got the crowd going by yelling "Congrats Barack!"
Article continues below advertisement
Even one of Liverpool's favorite sons, Paul McCartney got in on the Obamamania, thanking Americans for voting for the Illinois senator. He also played a special song he thought the Obama family might like, the Beatles ballad "Michelle."
The former Beatle took his own share of glory away as well, accepting the "ultimate legend award from U2 singer Bono, who said Paul was "the one person in this hall tonight whose work is immortal."
Comeback queen Britney Spears was absent but added to her accolades for this year with the awards for best album, for Blackout, and best act of 2008.