NEWS
Octo-Mom Visited by Child Services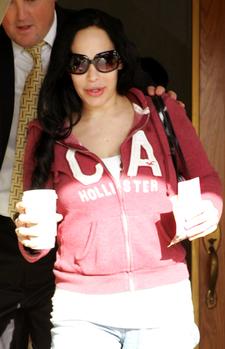 The troubles continue for Octo-Mom Nadya Suleman, after social services visited her home for 45 minutes, RadarOnline.com reports.
Apparently a teacher had reported one of Nadya's sons, who is autistic, had shown up at school with bite marks on his back and a black eye. Nadya tells the site that the subsequent visit was her fault for not seeing a note from her son's teacher regarding the injuries. She says the social workers were "impressed by how organized everything was" and would not be returning for any further investigation.
Article continues below advertisement
The mom of 14 says the injuries were because "he's autistic, he bumps into things," and that the kids sometimes bite each other, like she did when she was a child.
Always our goal is for families to stay together," Terry Lynn Fisher, spokesperson for the agency tells RadarOnline.com. "Because of issues of confidentiality, state law precludes us from confirming or denying."