NEWS
Octomom Defends Her Doctor Accused of Gross Negligence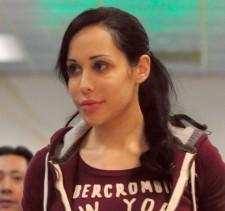 Nadya Suleman defends her doctor Michael Kamrava after the California State Medical Board recommended that his medical license be suspended.
"He did nothing wrong," the mom-of-14 tells Radar Online. "Absolutely nothing wrong."
Dr. Kamrava has been accused of gross negligence by the Board for the number of embryos he used each time Nadya — aka Octomom — received in-vitro fertilization, and for initiating a fresh cycle of egg retrieval when he already had her previously frozen embryos.
Article continues below advertisement
"If they are saying he transferred too many, he didn't do anything wrong," says Nadya who says that he did, in fact, use all her frozen embryos.
The documents state that Nadya signed a consent form each time she had a new IVF treatment, which allowed the doctor to start the fresh cycle rather than using the frozen embryos.
"Maybe I was signing papers I didn't read," she says, and adding to the Web site, "I was given wrong information."
The Board also said Dr. Kamrava was grossly negligent in failing to refer Nadya for a mental health evaluation.
"I've never heard any of that before and that's their subjective use," she said.
Meanwhile, Nayda is focusing on the future. "My children are here and whatever happened in the past I can't worry about."
Nadya gave birth to her octuplets on January 26, 2009.