NEWS
Octomom Joins Dating Show & Admits It's Difficult to "Interact and to Have Eye Contact"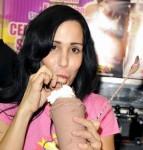 Nadya Suleman, a.k.a. The Octomom, doesn't seem to relinquish her 15 minutes of fame now, does she? According to a recent report, she'll star in a shiny new celebrity dating show on HDNet called Celebridate. Ironically, Nadya admits she's never really dated before in her life!
OK! NEWS: OCTOMOM'S DOCTOR TO HAVE HIS MEDICALLY LICENSE OFFICIALLY REVOKED
She told PopEater, "I was lucky enough to be invited to be a part of it. I have not watched TV in almost a decade, but I might just tune into this one! This is called Celebridate and I don't perceive myself to be a celebrity, but I guess they do. To a certain degree, I am in the public eye."
Article continues below advertisement
OK! NEWS: OCTOMOM GETS FINANCE ADVICE ON OPRAH
During the show different celebrities will go out with non-celebs to see if sparks fly. Sounds like Nadya is pretty green though when it comes to the dating department. "I've never dated," she admits.
"This is actually the first time I have dated in my life. I've had one boyfriend, it was very fascinating to me; it was an unforgettable experience. I am painfully shy and anxious...that's just my personality."
She adds, "So it's difficult for me to interact and to have eye contact."