NEWS
Odette Yustman Gushes About Wedding Plans with Dave Annable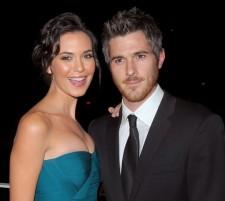 Odette Yustman has revealed she's a nervous bride to be—and is getting some help planning her upcoming wedding to Brothers and Sisters star Dave Annable.
The actress told reporters while promoting her new movie You Again, "I will be married before the end of the year. I do have a really amazing wedding planner. Her name is Rebecca Stone and she's very calm and she just calms me. I'm a little bit neurotic so she does everything she can to just say, 'it's all good. Everything's fine. What are you freaking out about? You're fine. No big deal.' And I haven't been a Bridezilla yet. Dave will say, YET, sweetheart, YET."
Article continues below advertisement
DAVE ANNABLE & ODETTE YUSTMAN ENGAGED
Odette, whose You Again character also has a wedding planner, told OK! she's not obsessing over looking super slim in her wedding gown.
"I'm not going to be too worried about it. I feel like a lot of people put so much pressure on that and it turns out to be not such a fun experience if you focus so much on your weight and what you're eating and how your skin looks and all these things. I just want to have a good time and I want to enjoy myself. If I want to have a burger, I'm going to have a burger. If I want to have some pizza, let's do it. But then, let's throw in some veggies. That's how I'm gonna balance it out. I'm a big eater. I love food."
CELEBS LOOK DYNAMITE AT DOMINO PRE-OSCAR BASH
In her movie, which will premiere Sept. 24, Odette's character is a recovering mean girl, and she admitted she's not a total angel with Dave either.
"My fiancé sees the mean side of me. The people that are closest to you really get the most crap. You just unleash it on them because you can. They're still going to love you no matter what," she smiled.
The 25-year-old told OK!, "Everybody gets grumpy and that time of the month rolls around and you'd better watch out. We have a really great relationship but let me tell you what—he does get under my skin and when he does it's like, 'stay away. Just learn—it's better for you to just stay a few feet away and then we're all good.' " She goes by the nickname Ode, but says Dave calls her Odette "when he's mad."
But the normal tiffs don't change the fact that they're head over heels in love—and she's also won over Dave's parents.
"We get along very, very well. Dave's got a great, down to earth family. It's all good. We're getting married. It's happening!" she exulted.
By Carole Glines