NEWS
Oh Yes, Lady Gaga's Meat Dress Was Really Meat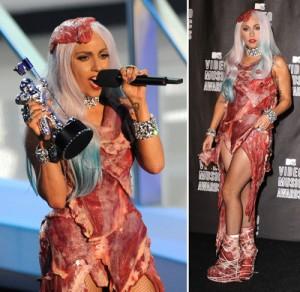 Maybe we're sticklers for sanitary environments, but the news that the meat-covered dress Lady Gaga wore last night to the 2010 MTV Video Music Awards dress was real meat is just... ick. The designer of the dress, Franc Fernandez, confirmed to MTV that the potential germfest was constructed of meat from his family butcher. Grab the bleach! "The dress is indeed real meat from my family butcher. Glad it went so well," he told MTV this morning.
Article continues below advertisement
MORE ON:
MTV Video Music Awards
After the awards were said and done, Gaga took her beef parade on over to Ellen's show to proclaim that she wore the dress to convey the message that she's not a piece of meat.
Funny, because we have a feeling PETA is going to make her into chopped liver after this fashion foie gras -- er, faux pas!