NEWS
OJ Sentenced To 15 Years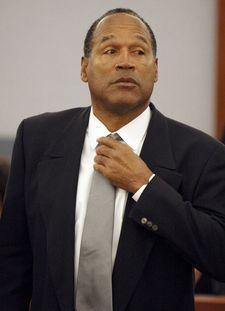 OJ Simpson is finally going to jail.
The former football star -- who escaped prison after he was acquitted of murdering his ex-wife -- has been sentenced to 15 years for armed robbery.
According to MSNBC.com, a Nevada judge told OJ today that he wouldn't be allowed bail pending an appeal, and that he would only be eligible for parole in six years.
Judge Jackie Glass said that he deserved to do time for being the "ring leader" of an armed robbery in 2007, which OJ claimed was just an attempt to get back family momentos.
Article continues below advertisement
Minutes before the sentencing, OJ -- who was found guilty on Oct. 3 -- claimed that when he held up memorabila collectors at the Palace Station hotel and casino in Las Vegas, he just wanted to re-claim his daughters wedding ring and photographs that he felt belonged to his son.
"I just wanted my personal things. I was stupid. I'm sorry. I didn't know I was doing anything illegal," he told the court, his voice shaking.
"I thought I was confronting friends. I thought I was retrieving my things. I didn't mean to hurt anybody and I didn't mean to steal anything."
But, according to the site, Judge Jackie Glass said: "You can't take back your own property by force. This is not behavior we can say this is OK, don't worry."
"You went to the room, you took guns, you used force, you took property," she went on, "whether it was yours or someone else's, and in this state that amounts to armed robbery."
He was found not guilty of killing his ex-wife Nicole Brown and her friend Ron Goldman in 1994.
His co-defendant, C.J. Stewart, who helped him with the robbery has yet to be sentenced.