NEWS
OJ's Attys Ask for Minimum 6-Yr Setence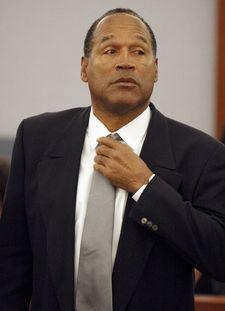 OJ Simpson's defense has asked that he receive the minimum sentence of six years in prison for his October robbery and kidnapping conviction, calling a recommendation of 18-years "inappropriate and knee-jerk."
Simpson, who in the 1990s was famously cleared of double murder charges in which his ex-wife Nicole Brown and her friend Ron Goldman were brutally stabbed to death, was found guilty on Oct. 3 in the armed robbery of a pair of memorabilia collectors at the Palace Station hotel and casino in Las Vegas.
Article continues below advertisement
The 61-year-old football legend and his co-defendant, Clarence "C.J." Stewart, are scheduled for sentencing on Friday and could face life in prison for their conspiracy, burglary, kidnapping, robbery and assault convictions.
"Simpson has never previously been convicted of a crime. Thus, he now stands before the court as a first-time offender," defense attorney Gabriel Grasso told the judge in court papers.
A report filed by the probation officials has not been made public, but according to the defense, it calls for Simpson and Stewart, 54, to be sentenced to 18 years behind bars.