NEWS
OK! Blog: Anoop Desai's Idol Dish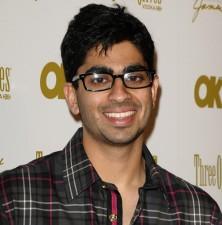 Of the more than one million people across the country who have auditioned for American Idol, only a few dozen know what it's truly like to live the Idol life. And that's why OKmagazine.com has brought in an expert! Every week, former finalist Anoop Desai shares his insights on the new season, only for OK!.
Was I the only one who liked Mike Lynche's performance the best out of all of them last week? This is what the judge's Save was created for, and I'm so glad they used it.
Article continues below advertisement
OK! NEWS: AMERICAN IDOL WHAT YOU DIDN'T SEE ON TV — SAVE FOR BIG MIKE!
The fact that Mike was technically voted off is a testament to how much influence Simon Cowell has on American Idol even when he's dead wrong. I've been answering questions about what the show will be like next year when he leaves for more than a month now.
Honestly, if it means that the American Idol viewership will have more open minds and ears when they watch the show, I think it's a... dare I say it... a good thing!
Think about it — when a performance is terrible, we all know it's terrible. All Simon does is tell you that it was bad by using a simile. You know the ones: that sounded like a cat dying, you looked like a caveman, etc, etc. When a performance is good (and we know it was good), he uses the word "brilliant" and we all feel that we've found the next superstar.
But what about the stuff that's in between? He can be just as hit or miss as the contestants themselves have been this season.
Article continues below advertisement
What may be hard for some people to believe is that most A&Rs (the record company people that are paid to evaluate music, sign bands, and pick radio singles) are lucky to break one or two big artists in their careers. What that means is that more often than not, a band will be signed, a single will be released, and money will be spent on the incorrect assumptions or opinions of one or two people. And that's their job.
There's no doubting the fact that Cowell is better at his job than most of his peers, but I think America is sometimes unwilling to see him as a fallible being.
Big Mike's elimination is a case in point. Whether you liked me on the show or not, so was mine. Glowing reviews from three out of four judges, and then Simon brings down the gauntlet. I have obviously moved on, and have no hard feelings for any of the judges on that show. I genuinely think they're all beautiful people who are doing their jobs wonderfully. All I'm really saying is that sometimes they're wrong. They're not oracles, they're people who are sitting at a desk hearing a completely different set of acoustics than what America is hearing through the television set.
Article continues below advertisement
And this, ladies and gentlemen, is why I couldn't be happier that my friend Adam Lambert is the guest mentor this week. Adam is not only a singer and performer for the ages, he knows exactly how to please the people sitting at that table. Expect Adam's advice to be honest and heavy on the visuals of the song. Adam is a smart guy — one who has mastered the art of perception and the game of American Idol.
The contestants this week have surely learned loads about who they can be as performers and what the judges are looking for from them. Expect a great show. And let me put out a challenge to everyone reading this — put the judges' comments on mute tonight. Form your own opinions, and then go back to see how they stacked up to the judges' comments. My bet is that you'll agree with them most of the time.
As I said, the majority of what they do is state the obvious. But sometimes, you're going to be surprised. Allow it to happen, and then realize that this show was created for YOU to pick your favorite, not for someone else to pick your favorite for you.
Happy voting!