NEWS
OK! Blog: Kelly Choi's Three Culinary Tips for Entertaining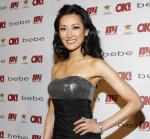 Kelly Choi, Top Chef Masters host and winner of a New York Emmy for hosting Eat Out NY, will be sharing her love of all things food with OK! every week!
This week's Top Chef Masters was a total hoot.
OK! BLOG: KELLY CHOI ISN'T AFRAID TO LOVE FAT!
For one thing, we went off site from the usual Masters Kitchen set to the sound stage of ABC's Modern Family. Going off campus is always a blast, and this was a special treat for our crew because we got to meet the talented cast of the hit series. (Btw, every single guy was drooling and tripping over himself trying to get a glimpse of the breathtakingly gorgeous Sofia Vergara from the cast. If there ever was a woman to embody the meaning of sexy, she is surely it).
Article continues below advertisement
Another reason why this episode delighted me so? Well, the tantalizing food, of course!
Keep reading, and I will share with you threeculinary tips to put into play when you're entertaining at home that are guaranteed to make any diner happy they came to your place for a meal.
OK!'S SEXY SINGLES SIZZLE IN NYC
The Elimination Challenge for our five Master chefs was to create their interpretation of a contemporary family meal for the huge staff of Modern Family. Essentially, to make food that everyone – from the lighting directors to the actors, from the makeup artists to the producers – will love.
Not an easy task, and to be sure, some of the food was absolutely stellar. Chef Susur Lee really put himself on overdrive, and cooked a plethora of food that wooed just about everyone on set. His curry chicken roulade stuffed with savory sausage and thick, dreamy polenta and grits tasted divine from the very first morsel.
(Check out Bravo TV's website under Blogs to read more about what I thought about the Master Chef's food).
Article continues below advertisement
OK! GALLERY: MEET THE TOP CHEF MASTERS IN OK!
But the three best cooking tips I learned from our Master cooks while shooting this episode that will surely come in handy when entertaining are these:
1. Prepare your protein, but also offer a vegetarian option for everyone, too. Not everyone will want to eat animal, and having this choice is always a good thing.
2. Balance flavors of salty, sweet, spicy, and what I like to call "cooling" - like a cucumber salad or yogurt dressing - a blander taste to mellow out the above. Include chutneys and sauces that add these flavors to your food. Accoutrements are like jewelry; they add pizazz and fun to a meal!
3. Recreate childhood taste memories that everyone can relate to. Think most of your dinner guests loved mac 'n cheese as a kid? Then prepare an altered version of it. Good food and the emotions it evokes always pleases even picky eaters.
OK! BLOG: LONI WORKS IT OUT: FROM THE DESK OF LONI
Employ these tips help when you're planning your next get-together, and be sure to tune in next week for the beginning of our Champions Rounds of Top Chef Masters!
Bon Appétit!
Kelly
Remember to Tweet me!
Tune in to Top Chef Masters on Bravo every Wednesday at 10 p.m ET/PT.