NEWS
OK! Congratulates Angelina Jolie, George Clooney on Globe Nods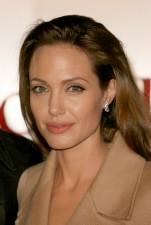 Hooray for Angelina Jolie, George Clooney, Jonathan Rhys Meyers, John Travolta, Jerry Seinfeld and Ellen Page. These super-fabulous superstars are in store for major props now that they're Golden Globe nominees.
Angelina Jolie is up for best actress for her role in A Mighty Heart, and the movie is up for best drama. I met Angelina at the Waldorf-Astoria where she was warm, gracious and I detected a slight Southern twang. (Perhaps she picked it up from Missouri-bred Brad Pitt?!) She talked about how being a mom to Maddox, Zahara, Pax and Shiloh influenced her role as Mariane Pearl.
Article continues below advertisement
"I think it just made me that much more aware of the great loss that she suffered at the time when she was pregnant, and then having her son," she says. "And at the same time, thank God she was pregnant and thank God she has Adam. It makes everything deeper. Knowing that there's a little boy, which makes me think of my son, and knowing that he will see this one day made us all work that much harder."
Later that week, I saw Angelina noshing on a few grapes while she and Brad worked the room at the movie's afterparty. They held hands constantly even as they had separate conversations.
Good job to George Clooney, who is up for best actor for his role in Michael Clayton. The movie is up for best drama. Let me tell you, George is always affable. When I caught up with him at the movie's premiere, he joked around about working with director Tony Gilroy. "We're really proud of it," he yuks. "First-time director, young kid. We cried a lot, so I held his hand. He doesn't need any advice." This happened right after his motorcycle accident with girlfriend Sarah Larson – who hobbled by on crutches. How does he handle the headlines? "You never know what the story will be. You prepare yourself for the worst, because usually it is the worst."
Article continues below advertisement
BTW, I see Jonathan Rhys Meyers all the time. He's up for best actor and his series The Tudors is up for best drama. He's a cool guy, very fun and easy-to-be -around. "The sex scenes are dull, especially when you've got a crew of 150 people," he says. "They look a hell of a lot hotter than they are."
High five for John Travolta, who is another one of my favorites. He's up for best supporting actor in Hairspray. How did he feel about having breasts in the flick? "I liked that everyone wanted to grab them, and grab my butt," he says. "I was very generous with my allowing them to do that. Of course, it wasn't me, so that's why I let them do that. It was amazing how much attention breasts and butts get." He's really fun, and he's always with Kelly Preston, who is s very kind.
Jerry Seinfeld must be pleased with his best animated film nod for Bee Movie. "I wanted to do something that was different for me," Jerry says. "Different for the audience, and an area that hasn't been explored before. Bees are something that everyone's aware of. They know that they make honey and they live in these hives. I thought 'it reminds me of Manhattan, where I live. It's very crowded and it's different.' It seemed like a silly, funny setting for a movie."
Whoop whoop for Tina Fey, whose 30 Rock is up for best musical/comedy series. She also scores nominations for herself in the best actress category and her co-star Alec Baldwin, who is up for best actor. "I want to go back to work," she tells me of her resolutions for 2008.
Ellen Page takes her best actress nomination for Juno in stride. "I try not to think about it," she says. "The script was so amazing I became relatively obsessive about playing this role. When I got to do it, I was through-the-moon ecstatic, and working with the people I got to work with was an enormous gift. I mean that. To do this film in the first place was so amazing in itself, and with all this happening, it's extremely surreal. We'll see what happens. I've seen For Your Consideration, you know what I'm saying?"