NEWS
OK! Cookbook: The Wackness Dishes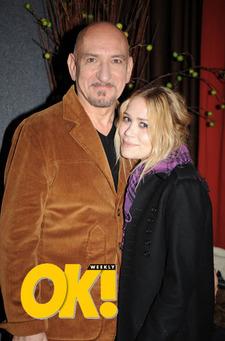 The cast of the upcoming dramedy The Wackness chowed down on some delectable dishes with OK! at The Leaf Lounge in Park City, Utah, and now you can do the same! Check out the recipes below and hit the kitchen!
Citrus Braised Salmon with Basil Mandarin Creme with Clementine Cucumber Relish
Serves 812
Ingredients
5 lbs. fresh salmon filet, skinned and boned
For Braising liquid:
2 c. fresh orange juice
1 c. Turning Leaf Chardonnay
Article continues below advertisement
12 oz. can spicy tomato juice
1/4 tsp. dried Italian herbs
2 small lemons, sliced
1 lime, sliced
1/2 orange, sliced
1/4 grapefruit, sliced
4 dabs unsalted butter
For Basil Mandarin creme:
1 c. creme Fraiche or sour cream
small can of mandarin orange sections, drain well
1/4 c. chopped fresh basil
salt and pepper, to taste
For Relish:
2 clementines, tangerines or oranges, peeled and diced
1/4 c. combined red, green and yellow bell pepper, finely chopped
1 large cucumber, seeded and chopped
1 tsp. fresh chives, chopped
salt and pepper, to taste
1 dash orange juice
Instructions
For salmon:
1. Preheat oven to 400 degrees.
2. Place filet in a roasting pan; in separate bowl, combine orange juice, tomato juice, Turning Leaf Chardonnay, Italian herbs, and all sliced fruit;
3. Pour over salmon to barely cover and set aside. Put dabs of butter in on top of salmon;
Article continues below advertisement
4. Place pan in oven; braise until salmon is slightly firm to touch, approximately 20 minutes.
For creme:
1. In blender place creme Fraiche or sour cream, basil, mandarin oranges and salt and pepper; blend to combine.
For relish:
1. In bowl combine tangerines, bell peppers, cucumber, chives, salt and pepper with dash orange juice.
Remove salmon to platter when done; top with relish and dabs of creme, and enjoy!
Petite Field Greens on an Herb Chevre Puff Pastry with Blackberry Sorbet and a Syrah Balsamic Glaze
Serves 8 -12
Ingredients
2 lbs. petite greens
1/3 cup walnuts
1 box frozen puff pastry
1 c. chevre cheese, soften
Italian herbs
1 pint favorite blackberry sorbet (raspberry may be substituted)
1 lb. plum tomatoes
2/3 c. Turning Leaf Syrah
1 1/3 c. balsamic vinegar
Salt & pepper to taste
Instructions
1. In large bowl, place washed and dried field greens; gently toss with drizzle of olive oil and salt and pepper to taste; Cut plum tomatoes in half lengthwise.
Article continues below advertisement
2. Gently toss tomatoes and walnuts with greens; place aside.
3. Defrost puff pastry, cut into 4" x 4" squares; prepare as per package directions.
4. Place on large serving platter to cool to room temperature.
5. In medium bowl, combine Italian herbs with chevre cheese.
6. In small saucepan, combine Turning Leaf Syrah & balsamic; reduce to 1 cup.
7. To prepare platter, spread each square with the herb chevre, place a small amount of field greens on top of puff pastry square.
8. With small (2 oz.) scoop, put 1 scoop of sorbet on top of the greens, drizzle with Turning Leaf and balsamic reduction. Enjoy!