NEWS
OK! COVER STORY: Angelina Jolie & Brad Pitt — Wedding Exclusive!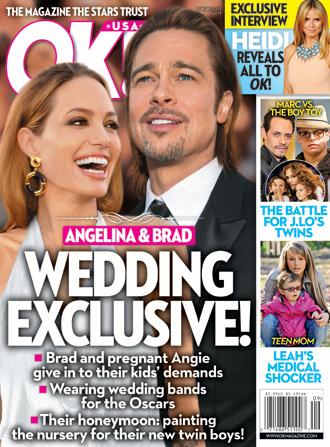 Article continues below advertisement
"Brad and Angie have kept this quiet, and they're talking about how and when to announce it," an insider tells OK!. "They really get a kick out of teasing people with this whole thing."
Together since 2005 — after Brad's pop culture-shattering split from Jennifer Aniston — the couple have famously vowed to resist matrimony until same-sex marriage becomes legal throughout the U.S. But in a recent interview, Brad, 48, dropped his most explicit hint yet.
OK! GALLERY: BRAD PITT & GEORGE CLOONEY DOUBLE DATE ON THE 2012 SAG AWARDS RED CARPET
"We'd actually like to get married," he revealed. "We made this declaration some time ago that we weren't going to do it till everyong can. But I don't think we'll be able to hold out. It means so much to my kids, and they ask a lot," said Brad. "It means something to me, too," Brad added, "to be in love with someone and be raising a family with someone and want to make that commitment and not be able to is ludicrous, just ludicrous."
FOR MORE ON BRAD & ANGIE'S DECISION TO FINALLY TIE THE KNOT, PICK UP THE NEW ISSUE OF OK! — IN STORES THURSDAY!