NEWS
OK! COVER STORY: 'Jersey Shore' Star Snooki's Baby Joy With Son Lorenzo!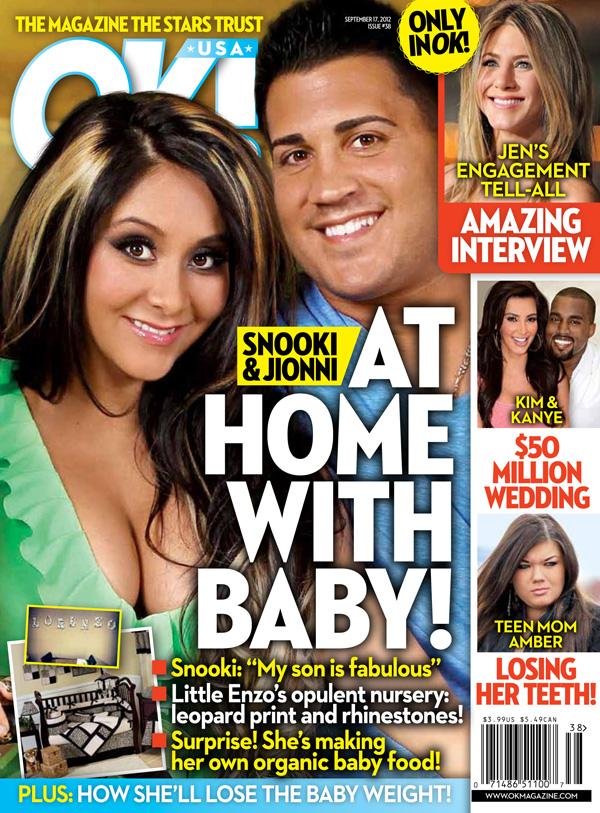 To most Americans, Nicole "Snooki" Polizzi's image was likely that of a crass, stumbling, inebriated party girl. But it is said that parenthood changes people.
And judging from the glow of maternal warmth emanating from the Jersey Shore phenomenon after the Aug. 26 birth of baby Lorenzo Dominic LaValle, she is a guidette transformed. As the 4-foot-9 firebrand left the St. Barnabas Medical Center in Livingston, N.J., via wheelchair with fiancé Jionni LaValle on Aug. 30, she clutched her 6-pound, 5-ounce son in a blue blanket and appeared lost in euphoria.
Article continues below advertisement
"The baby is so cute," a close pal of Snooki tells OK!. "He's a mini-Nicole. She's loving being a new mom."
"She's smitten, and Lorenzo's brought out a whole new softer side to her," an insider tells OK!. "She loves to nibble on his toes, pinch his cheeks and sing to him — his favorite song is 'We Found Love' by Rihanna — and she has all these cute nicknames: Honey Potski, Fudgibanoochki, and when he's crying too much, she calls him Rotten Rotinski! But her favorite thing to call him is 'gorgeous handsome little man,' so Jionni tells her just to call him GHLM!"
Jionni, meanwhile, has taken to fatherhood. "He's super helpful — a natural, since he comes from a big family," the pal tells OK!. "He always cooks, offers to change diapers and makes sure Nicole eats nutritiously. They're getting an organic baby-food machine; he and Nicole have been trying to be really healthy, and when you read up on all the toxins in everyday things, it really comes as a shock."
FOR MORE ON SNOOKI AND LORENZO, PICK UP THE NEW ISSUE OF OK!, ON SALE NOW!