NEWS
OK! Cover Story: Jessica Simpson Exclusive Details — My First Days As A New Mom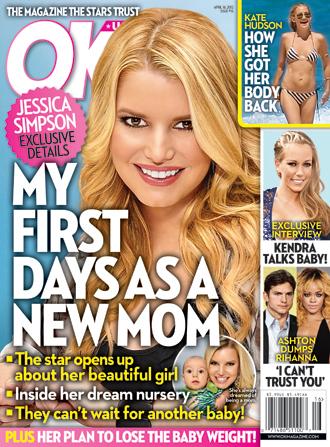 Motherhood couldn't come a moment too soon for Jessica Simpson. The 31-year-old has longed for a baby her whole life — and now that blessed event is finally here!
"I can't wait to just hold her in my arms," Jessica said in the last month of her pregnancy. "At this point, I am really ready."
An insider notes that "Jessica is going to be the most unbelievable mother — she's taken to it like a duck to water."
Article continues below advertisement
OK! GALLERY: JESSICA SIMPSON AND ERIC JOHNSON GET CAUGHT IN A BABY SHOWER IN L.A.
In fact, the insider says Jessica has been preparing for the birth from the very start.
"She talks to the baby and already feels like she knows her. She sings to her all the time, too."
Jessica has also tried her hand at creating lullabies for her daughter. "It's sweet," says the insider, "the baby already has songs written especially for her!"
Article continues below advertisement
FOR MORE ON JESSICA SIMPSON, PICK UP THE NEW ISSUE OF OK!, ON SALE THURSDAY!
MORE IN THIS ISSUE OF OK!:
• Kendra Wilkinson-Baskett speaks out about her new reality show, making time for love and tips for new moms.
• Khloe Kardashian Odom quits PETA after sister Kim was flour-bombed.
• Kate Hudson's secret revealed: How she got her pre-baby body back.
• Rihanna cuts down rumors about dating Ashton Kutcher.
• Katy Perry and Russell Brand both pick up new models.
• What do George Clooney, Prince Harry and Reese Witherspoon have in common? They're saving the world.
• Let OK!'s Wedding Special show you how to select the perfect ring, dress, makeup and everything else you'll need to make your big day one to remember!