NEWS
OK! COVER STORY: Jessica Simpson's Baby Meltdown!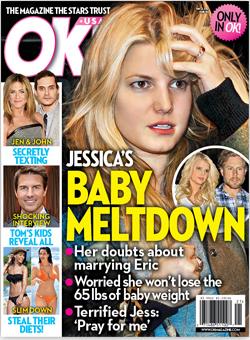 As Jessica Simpson held her new daughter, Maxwell Drew, in her arms, while her fiancé Eric Johnson looked on, her happiness was complete — yet she was also aware that the clock was ticking.
OK! NEWS: JESSICA SIMPSON GIVES BIRTH TO BABY GIRL MAXWELL DREW JOHNSON
The performer, who heads a fashion empire that reportedly grosses $1 billion a year and has a starring role on the reality competition show Fashion Star, may be cracking under the intense pressure to get back to work as quickly as possible — a situation that also upsets Eric, 32. He hoped that once their daughter was born (she entered the world on May 1), Jessica, 31, would take a break from her busy schedule.
Article continues below advertisement
OK! NEWS: JESSICA SIMPSON GAVE BIRTH TO HER BABY GIRL IN A DELUXE, LUXURY MATERNITY SUITE
"The sky's the limit," Jessica said in an interview with OK!, while promoting Fashion Star in February. "Even with music and acting and being a mom and anything else that I want to do, I know that I can do it. Life is definitely always about expanding. That's how we grow."
Easy to say at the time — but now that the reality of being a mom has set in, Jessica isn't so sure.
FOR MORE ON JESSICA SIMPSON'S MELTDOWN, PICK UP THE NEW ISSUE OF OK!, ON SALE NOW!
MORE IN THIS ISSUE OF OK!:
• Angelina Jolie and Brad Pitt's latest exotic destination: Legoland with the kids!
• John Mayer secretly texts Jennifer Aniston while she fights with Justin Theroux.
• Learn which diet strategies — kung fu or McDonald's — work for Rihanna and Kim Kardashian.
• Tom Cruise's children are charting their own paths through life without dad in control.
• Heartthrobs Justin Bieber and Selena Gomez grew up with crushes on stars, too!
• Melissa Rycroft revels in having a husband, a baby and a new reality show.
• Supermodel Linda Evangelista demands $46,000 a month to care for her 5-year-old.