NEWS
OK! COVER STORY: Sandra Bullock's Hookup With Ryan Reynolds' Best Friend!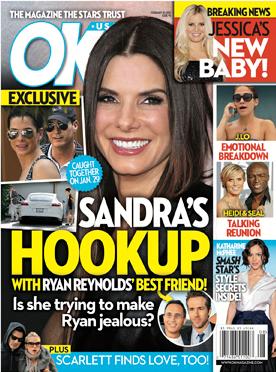 Sandra Bullock gave Jonathon Komack Martin her most heartfelt movie star smile as he opened the passenger side door of a white Porsche Panamera for her. The pair were spotted together on Jan. 22 as they arrived together at a private party at an L.A. townhouse.
"Jonathon was very attentive to Sandra," says an event onlooker. "He did't leave her side all afternoon."
OK! GALLERY: RYAN REYNOLDS AND SANDRA BULLOCK'S SURPRISE RUN-IN AT THE CHANGE-UP PREMIERE
Article continues below advertisement
That wouldn't come as a surprise to people who know them. "Sandra and Jonathon are great friends," another insider divulges, adding, "they were introduced years ago and they've always hit it off. She's been spending more time and more time with him, going to parties or just hanging out, and that's got everyone talking."
But Sandra, 47, is tired of answering nosy questions about her personal life and, she's justifiably protective of her date, Jonathon.
"She's being extremely secretive, though, which is typical. And give what she's been through, you can hardly blame her," says the insider. "Even when probed, she won't reveal much more than saying what a great guy Jonathon is."
OK! GALLERY: SANDRA BULLOCK AND BABY LOUIS GO SHOPPING IN NYC
Last year, Jonathon was a producer on The Change-Up, which starred Ryan Reynolds — Sandra's co-star in The Proposal and the man who helped her find her smile again after her ugly divorce from Jesse James in 2010. 
Article continues below advertisement
Sandra and Ryan, 35, who was fresh from his split from Scarlett Johansson, denied a romance, but the pair spent a lot of time together last summer, and fans and Hollywood insiders hoped that the natural chemistry Sandra and Ryan displayed on screen would travel into real life.
FOR MORE ON SANDRA BULLOCK'S MYSTERY DATE AND HOW HE HAS REPLACED RYAN REYNOLDS, PICK UP THE NEW ISSUE OF OK!, ON SALE THURSDAY!
MORE IN THIS ISSUE OF OK!:
• Jessica Simpson's new baby! Her bambino isn't the only brand-new addition in this busy superstar's life. 
• What's behind Jennifer Lopez's breakdown? Sharing custody with Marc Anthony, the superstar mom misses her twins. How are the kids coping?
• Family turmoil devastates Mob Wives' Renee Graziano. 
• Katharine McPhee's style evolution! She's gone from American Idol sweetie to Smash star — in life and fashion!
• Tired of her wild child reputation, Teen Mom 2's Jenelle Evans tries to convince the world that she has grown up.