NEWS
OK! COVER: Teen Mom Amber Portwood: Friends Fear She'll Die in Prison!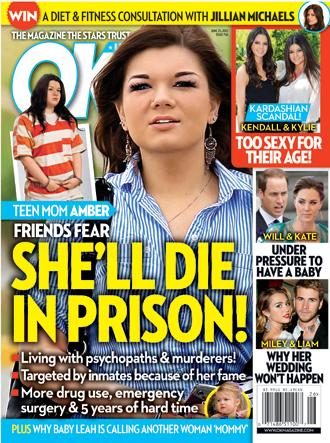 Article continues below advertisement
MORE IN THIS ISSUE OF OK!:
Why Miley Cyrus and Liam Hemsworth are not going to tie the knot
Are Kendall and Kylie Jenner being made into teenage sex kittens just to enrich "momager" Kris Jenner?
Queen Elizabeth puts the pressure on Duchess Kate Middleton and Prince William to produce a great-grandchild — this year!
Beauty pageant turns ugly as Donald Trump threatens lawsuit over Miss USA fraud claims
Katy Perry and Robert Ackroyd: Fireworks are flying!
Meet 10 celebrities who fight for animal rights — Hayden Panettiere was even arrested protecting dolphins!