NEWS
Teen Mom Amber Portwood Talks About Her Suicide Attempts and Why She Looks Forward to Jail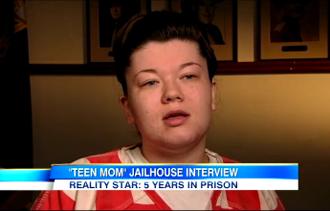 Teen Mom's troubled Amber Portwood opened up to ABC News in a startling interview about her suicide attempts, "mental problems" and why she chose jail over rehab.
OK! NEWS: TEEN MOM STAR AMBER PORTWOOD BACK IN JAIL!
Earlier this week, Amber was sentenced to five years stemming from a drug charge and inability to follow the terms of her probation. Amber's been in and out of court rooms for domestic abuse and assault, and after her 3-year-old, Leah, was taken away, the reality star said she felt hopeless.
Article continues below advertisement
"I felt like I had no reason to even be around... felt like that's what I was put on this earth to do, when I had her ... and I started partying and doing drugs because I felt like I couldn't do anything anymore. I lost my whole family, I felt like, they moved away from me," she said.
At her worst, Amber attempted to take her life by overdosing on prescription opiates.
"I took 30 Suboxone which typically treats opioid addiction within three days," she said. "The depression took over. I'd just take four to five at a time underneath my tongue, and nod out. I had more than addiction problems. I had, you know, mental problems, too."
Drug rehab made the reality star feel self conscious, she said. Being a celebrity didn't bode well for feeling comfortable in group settings with other addicts. She felt "paranoid."
OK! NEWS: AMBER PORTWOOD RELEASED FROM PRISON; PLEADS NOT GUILTY TO BATTERY CHARGES
"In the program there were a lot of eyes on me," she said. "I was very depressed, all alone, all bitter at everybody. I felt like that wasn't the life I wanted to live, I felt like I'd rather do my time, and get it over with, and make the best out of the situation that's been handed to me."
Amber hopes to complete her GED while in jail, stay clean and get a normal job when she's released.
Good luck, Amber.