NEWS
OK! EXCLUSIVE: Angelina Jolie & Jon Voight Reunited Long Before Venice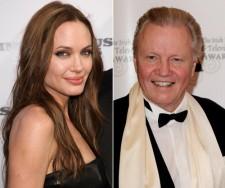 Jon Voight's manager and close personal friend, Dorothy Paul, told OK! that Angelina Jolie and her estranged dad made peace as long as one year ago — those photos of the two together in Venice wasn't so much a "reunion." Dorothy clarified, "They've been together many times now, it's just no one found out about it."
OK! HOT GALLERY: ANGELINA JOLIE TAKES ON THE TOURIST
When Jon was spotted out in Venice with his daughter Angelina, Brad Pitt and all the kids, it wasn't the first time they had all been united as reports suggested, but it did take some time for that to happen.
Article continues below advertisement
"Yes, I think James Haven had something to do with it, but more than anything it was a natural progression between father and daughter," Dorothy explained to OK!, referencing Angie's beloved brother.
OK! HOT GALLERY: BRAD & ANGIE BOND WITH THEIR BUNDLED-UP BROOD IN ITALY
Jon and Angie's time together abroad was great, but was only one of many!
"They've had many wonderful times together and they had a great time in Venice."
"Jon was there for just one day but he hopes to see them again soon," she added. "He's met all his grandchildren before, all six of them. He loves them all, he doesn't have any one favorite.
OK! HOT GALLERY: THE BRANGIE BUNCH VENTURE OUT IN VENICE
"Everyone is very happy," Dorothy told OK!. "Jon is happy, Angelina is happy, Brad is happy, the grandchildren are happy. It was a good time for all of them."